Philadelphia's Best Line Painting Company
Just Sripe It © is a sister company to the reputable Just Seal It LLC ©, therefore it operates on the same principles of honesty, respect and integrity. What separates our Pavement Marking company from the rest is that we treat your property as if it is our own, and we truly want to please our customers. A satisfied customer is sure to share their experience with friends and associates ; what better form of advertising could we ask for.

Being centrally located in York, PA, Just Stripe It © can respond to our customers in an efficient manner. If your interested in hiring a quality driven line painting contractor then please visit our "request quote" page. If your unsure if you fall in our service area please select our "service area" tab.

Picking a line striping company can be tough. When in doubt always go with the company that has the experience to do the job right. Just Stripe It © has painted thousands of parking lots from Maine to Louisiana. We have done work for very reputable companies such as Taco Bell, Wendy's, Kmart, Hershey Park, Harley-Davidson , and Sears Holding Company to name a few. References available upon request.


Just Stripe It © is Philadelphia's premier line painting company. Our line striping service extends from York PA to Philadelphia PA. and all surrounding areas. If your looking for a pavement marking company that strives to exceed your expectations for your parking lot , then look no further than Just Stripe It ©.
Just Seal It LLC is a full service asphalt maintenance and pavement marking contractor specializing in asphalt sealcoating, asphalt repair, asphalt crack sealing, line striping, thermoplastics, trafic sign installation, and car stops. Just Seal It LLC serves the following areas:
Philadelphia PA, King of Prussia PA, Conshohocken PA, Plymouth Meeting PA, North Wales PA, and West Chester PA
Please call 717-855-7775 to request a free "no obligation" quote.
Just Stripe It © is the recognized Pavement Marking / Line Painting leader in the Philadelphia PA, King of Prussia PA, Conshohocken PA, Plymouth Meeting PA, North Wales PA, and West Chester PA area. Our well trained staff will beautify your Parking Lot with freshly painted lines. Just Stripe It © only uses top quality Sherwin Williams Traffic Paint. Call today for your free no obligation quote !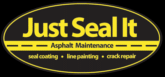 Address: 2474 N. George Street, York, PA. 17406