Why do we excel in Line Painting?
Just Seal It LLC specializes in line painting in Philadelphia PA. If you have a parking lot lines that have lost their original color and are starting to fade, call us now to get a no obligation line painting quote. We also are highly experienced in performing new layout pavement marking on new asphalt.

We have performed many successful line painting jobs in the Philadelphia and/or surrounding area. It is always a great idea to start or mantain an effective line painting program to increase the overall safety of your parking lot. With the potential of harsh temperature changes in the Philadelphia area, many parking lot lines should be painted every 2-3 years depending on your overall traffic.

Just Seal It LLC uses all of the up to date methods and equipment to perform parking lot striping in Philadelphia. The quality of any line painting job is highly dependent on the prep work prior to the paint application. Many Philadelphia PA contractors will cut corners to get the material on the ground as fast as possible, not Just Seal It LLC. Our highly trained pavement marking technicians are trained on the proper preparation techniques. We all know that it can be windy in Philadelphia, so we always take the proper precautions when line painting.

If your business is located in Philadelphia or a surrounding area we would be glad to visit your property to provide an estimate for your line painting needs. In addition to parking lot striping, we also perform asphalt maintenance services. We truly believe that you will not find a more qualified line painting contractor in the Philadelphia area. Just Seal It LLC stands on high quality products, service, and customer service.



Just Seal It LLC is the recognized Asphalt Sealcoating and Pavement Marking leader in the West Chester, PA - Conshohocken, PA - North Wales, PA - Plymouth Meeting PA - Philadelphia PA and King of Prussia area. Our great attention to detail combined with our commitment to superior customer service assures that your asphalt will be sealed and painted correctly. For a free quote click here or give us a call @ 717-855-7775.
Just Stripe It © is the recognized Pavement Marking / Line Painting leader in the Philadelphia PA area. Our trained pavement marking specialists will beautify your Parking Lot with freshly painted lines. Just Stripe It © only uses top quality Sherwin Williams Traffic Paint. Call today for your free no obligation quote !

Address: 2474 N. George Street, York, PA. 17406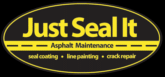 Line Painting / Pavement Marking (Philadelphia, PA)
Line Painting / Pavement Marking (Philadelphia, PA)